Montpelier, VT – The Vermont Economic Development Authority (VEDA) has named Peter Samson its Chief Lending Officer (CLO), effective July 1, 2019. He will lead the Authority's Commercial, Agricultural and Loan Resolution lending departments.
Samson joins VEDA from Berkshire Bank, where he held the position of Connecticut Region Executive, responsible for direct commercial lending and business development for small and middle market businesses. He also worked closely with the many regional economic development entities across the state.
"Peter brings a strong working knowledge and depth of experience in commercial lending and economic development," said Cassie Polhemus, VEDA's Chief Executive Officer. "His leadership experience and knowledge of economic development financing tools will be a valuable asset to our lending teams and in continuing VEDA's role as the leader in economic development financing for State of Vermont."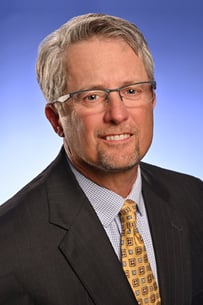 Peter has 28 years of commercial lending experience in New England, and has previously held positions at People's United, Fleet and Webster Banks. He resides in Fayston where he has been a long-time weekend resident of the Mad River Valley.
"I'm honored to be named Chief Lending Officer and look forward to working with Cassie and the rest of VEDA's team," said Samson. "I've been a part-time Vermonter for many years and look forward to living here full-time, helping VEDA continue its positive contribution to Vermont's workforce and economy."
At VEDA, Samson will be responsible for the Authority's lending functions. He will join VEDA's Executive Management team, filling the vacancy left by Polhemus when she was promoted to CEO this past April. Working with VEDA's Board of Directors, the Executive Management team develops the long-term business goals and strategies consistent with VEDA's mission.
About VEDA
The Vermont Economic Development Authority (VEDA) is Vermont's economic development finance lender. Created by the Vermont General Assembly in 1974, VEDA's mission is to contribute to Vermont's economic vitality by providing a broad array of financing programs to eligible businesses that create jobs and help advance Vermont's public policy goals.
VEDA offers a wide range of low-cost lending options for Vermont businesses and farms of all sizes, and the Authority's lending solutions are customized to each borrower's individual needs. Whether in the form of direct loans, tax-exempt bond issuance or loan guarantee support, VEDA's innovative financing programs help ensure that Vermont businesses and farms have the capital they need to grow and succeed. VEDA most often lends in conjunction with banks and other financing partners, helping to stimulate economic development activity in Vermont.
Since inception, VEDA has provided $2.5 billion in financing assistance to thousands of eligible Vermont entrepreneurs, manufacturers, small businesses, family farms, and agricultural enterprises.
VEDA has five offices throughout Vermont – in Montpelier, Burlington, Middlebury, St. Johnsbury and Brattleboro. For more information about VEDA, visit www.veda.orgor call 802-828-JOBS.
###