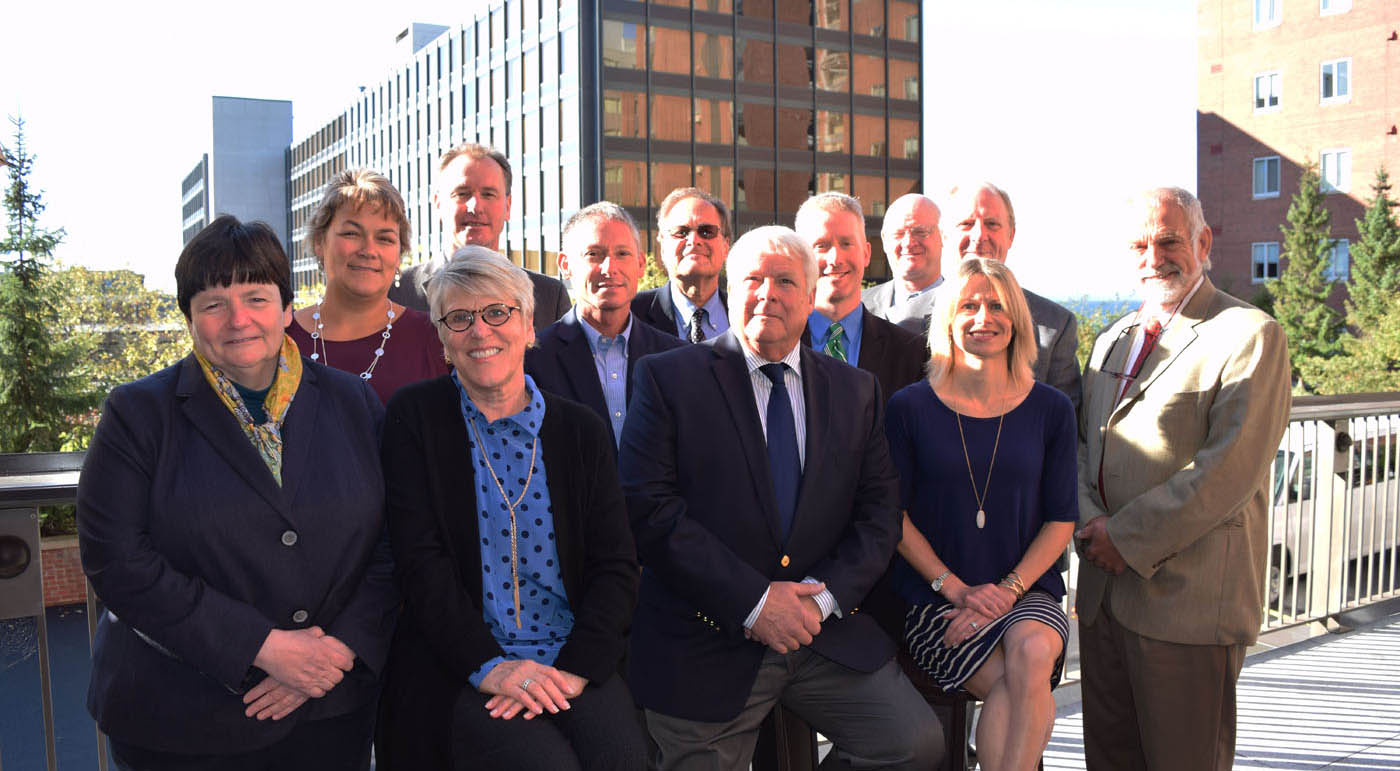 Photo - Front row, left to right: Beth Pearce, CEO Jo Bradley, John Snow, Tammy Richards, Will Patten. Second row, left to right: Alyson Eastman, Michael Schirling, Tom Gallagher. Third row, left to right: Michael Snyder, Dan Kurzman, Ed Delhagen and Michael Tuttle. Missing: Leon Graves, Jane O'Meara Sanders, Dana Kittell and Steve Voigt.
VEDA - Board of Directors
VEDA is fortunate to have a Board of Directors comprised of thoughtful and dedicated Vermonters who bring a wealth of experience to the work of the Authority:
Ed Delhagen
of Randolph is the Clean Energy Finance and Program Manager for the Vermont Department of Public Service, serving on the VEDA Board as Designee for Commissioner June Tierney. Ed works on clean energy finance, energy planning, grant programs, and collaborative projects. He coordinates the Vermont Clean Energy Industry Report, the Heat Saver Loan program and other initiatives. Before joining State government, Ed served as Deputy Director for the Vermont Sustainable Jobs Fund and consulted on sustainable economic development. He received his Bachelor's degree from Brown University and Graduate degree from the University of Michigan.
Alyson Eastman
of Orwell is the Deputy Secretary for the Vermont Agency of Agriculture, Food & Markets, serving on the VEDA Board as Designee for Anson Tebbetts, Agency Secretary. A lifelong Vermonter, Alyson was raised on her 270-acre family farm in Orwell and resides there today with her husband, Michael, and their twin boys Brandon and Bentley. Alyson attended Champlain College and earned her A.S. in 1997 and her B.S. in 2003. In 2010, she founded Lake Home Business Services, Inc. -- a firm that provides H-2 Visas, and bookkeeping and payroll services. In 2015 and 2016, Alyson served the Addison-Rutland I District in the Vermont House of Representatives..
Thomas Gallagher
of St. Albans is VEDA's Chair. Gallagher has been President and CEO of the Peoples Trust Company since 2011. Prior to his appointment, he served as the bank's Senior Vice President and Senior Commercial Loan Officer and has held various positions within the institution during his 20-year career. Gallagher also continues to participate on his family's farm, which specializes in dairy and replacement cattle. An Accounting graduate of Champlain College, he serves on various community-oriented boards. He also currently serves on the Vermont Banking Association Government Relations Committee and is a member of the Executive Committee.
Leon C. Graves
of Fairfield began his service on the VEDA Board in 1995 while serving as Governor Howard Dean's Commissioner of Agriculture. From 2003 to 2018, Graves worked in a number of management positions for Dairy Marketing Services, Dairy Farmers of America and most recently, as St. Albans Cooperative Creamery's Chief Operating Officer. Graves was a member of the Vermont House of Representatives from 1987 to 1994 and the Senate in 1995. He is currently working in retail sales and with his family on their diversified farm in Fairfield.
Dana Kittell
of East Fairfield is the founding partner of the CPA firm Kittell, Branagan and Sargent. Dana has been a public accountant for more than 45 years, focusing on non-profit and commercial enterprises including municipalities, health care, nursing homes, wholesale businesses, construction and contractors. Dana is a member of the American Institute of Certified Public Accountants as well as the Vermont Society of Certified Public Accountants. Dana resides in East Fairfield with his wife Judith. They have two children Kregg and Kamie and five grandchildren. Dana attended Champlain College where he received his A.S. in Accounting.
Daniel Kurzman
of Derby Line was the past Northeast Regional Manager of Operations for Ethan Allen overseeing the manufacturing and sawmill facilities in two states. Now retired, Kurzman also held senior positions in Human Resources at both the regional and corporate level during his tenure at Ethan Allen. Prior to his employment at Ethan Allen, Kurzman was a public school educator and administrator.
Will Patten
of Hinesburg began his 40 years in the Vermont business community as a young entrepreneur in Rutland, including more than two decades working with Ben & Jerry's, from which he retired as Director of Retail Operations in 2007. In Rutland, he opened and operated The Back Home Café and Murphy's. From 2007 to 2010 Will served as Executive Director of Vermont Businesses for Social Responsibility. After a short sailing trip, Will returned to Vermont to start Back to Basics Vermont, Inc. which invests in and consults on business strategies for new economic realities. Will was appointed by Governor Shumlin to the Vermont Economic Development Board and is joining the board of the Lake Champlain Sailing Center. He is currently serving as Rear Commodore of the Royal Savage Yacht Club in Charlotte.
Beth Pearce
of Barre was appointed Vermont State Treasurer in January, 2011 by Governor Peter Shumlin. Treasurer Pearce has more than 30 years of experience in government finance at both the state and local levels. Prior to her appointment, she served as Deputy Treasurer for more than seven years under former Treasurer Jeb Spaulding. During that time, financial reports prepared by Pearce received the Certificate of Achievement for Excellence in Financial Reporting by the Government Finance Officers Association.
Tammy Richards
of Williamsville is a business broker with Country Business, Inc., a regional brokerage firm assisting buyers and sellers throughout New England. Prior to holding this position, Richards spent five years with Pieciak & Company, P.C. focusing primarily on performing business valuations of closely- held businesses. She is a Certified Valuation Analyst ("CVA") as designated by the National Association of Certified Valuation Analysts (NACVA) and also holds a Chartered Merger and Acquisition Professional ("CMAP") designation from the Middle Market Investment Banking Association ("MMIBA"). Before moving to Vermont in 2004, Richards spent eight years working at Citigroup in New York where she held various positions within the investment banking division. She spent five of those years in the Acquisition Finance Group working closely with private equity firms in valuing and financing their leveraged buyouts of middle market and large-cap companies via syndicated bank loan and high yield bond transactions. She spent the following three years as Vice-President in the Global Loans Portfolio Management Group, where she managed a portfolio of highly leveraged corporate loans retained by Citigroup.
Jane O'Meara Sanders
of Burlington has spent much of her career in public service, primarily with a focus on community development. Currently, Jane represents Vermont on the Texas Low-Level Radioactive Waste Commission. Most recently, she served as President of Burlington College, significantly expanding its campus and degree programs, and earlier, as Provost and Interim President of Goddard College, her alma mater. As a municipal Department Head in the City of Burlington, Jane founded many programs and non-profits for children and families that continue today. She has also worked in the U.S. Congress, been elected as a School Board Commissioner, and run her own small business as a media and educational consultant. Jane earned her Ph.D. in Leadership and Policy Studies at Union Institute & University.
Michael Schirling
of Burlington was appointed Secretary of the Vermont Agency of Commerce and Community Development by Governor Phil Scott in December. Immediately prior to serving as Secretary, Schirling served as Executive Director of BTV Ignite, an economic development and technology accelerator initative, where he oversaw the organization's efforts to expedite growth of the local tech sector to strengthen the economy by driving innovation. Schirling led projects and initiatives focused on science, technology, engineering and mathematics (STEM) learning opportunities, career coaching and workforce training programs, and development of innovation hubs. He has also worked as a contractor conducting trainings for the U.S. State Department's Anti-Terrorism Assistance Program Cyber Division. Schirling served in the Burlington Police Department for 25 years, including seven years as Chief of Police.
Michael Snyder
of Stowe was appointed Commissioner of Vermont Forests, Parks, and Recreation by Gov. Peter Shumlin in December 2010. Prior to that he served for 14 years as Chittenden County Forester, providing land stewardship assistance to private landowners and municipalities. For 12 years, he taught two courses in Forestry at the University of Vermont, and he continues to write the Woods Whys column for Northern Woodlands Magazine. Previously, he worked in forest ecosystem science at the Hubbard Brook Experimental Forest and in land surveying and forest management in New Hampshire, New Mexico, and Sweden. He owns and manages a 91-acre forest in the northern Connecticut River valley of Vermont. He received both his Bachelor's and Master of Science degrees in forestry from the University of Vermont.
Mike Tuttle
of South Burlington is VEDA's Vice-Chair. Prior to his retirement in 2016, Tuttle served in various positions over a 25-year career with Merchants Bank and Merchants Bancshares, including the last ten as President, CEO and director. He currently serves as director of the Federal Home Loan Bank of Boston and director of Opportunities Credit Union. Tuttle has also served on various community boards including the United Way of Chittenden County, Flynn Center for the Performing Arts and Vermont Business Roundtable.
Steve Voigt
of Norwich is VEDA's Treasurer. Voigt was President and CEO of King Arthur® Flour from 1999 to 2014. Hired in 1992 as Vice President of Finance, Steve became Chief Operating Officer in 1998. Prior to King Arthur Flour, Steve worked for Benedetto, Gartland & Greene in New York, where he raised private equity for venture, LBO and alternative asset funds. During his tenure there, Steve also supported his wife in founding, and later selling, Robin's Homemade Breads of Greenwich, CT. He also consulted out of Zurich, Switzerland and Cleveland for McKinsey & Company. Steve is a graduate of the Amos Tuck School of Business Administration at Dartmouth College, and Colgate University. Steve serves on the boards of Newport Harbor Corporation, Vermont Mutual Insurance Company, Dansko, Montshire Museum of Science, and Tuck's Center for Business, Government & Society. He has also been an active member of The ESOP Association serving on the Board of Governors from 2003-2009 and as its Chair.