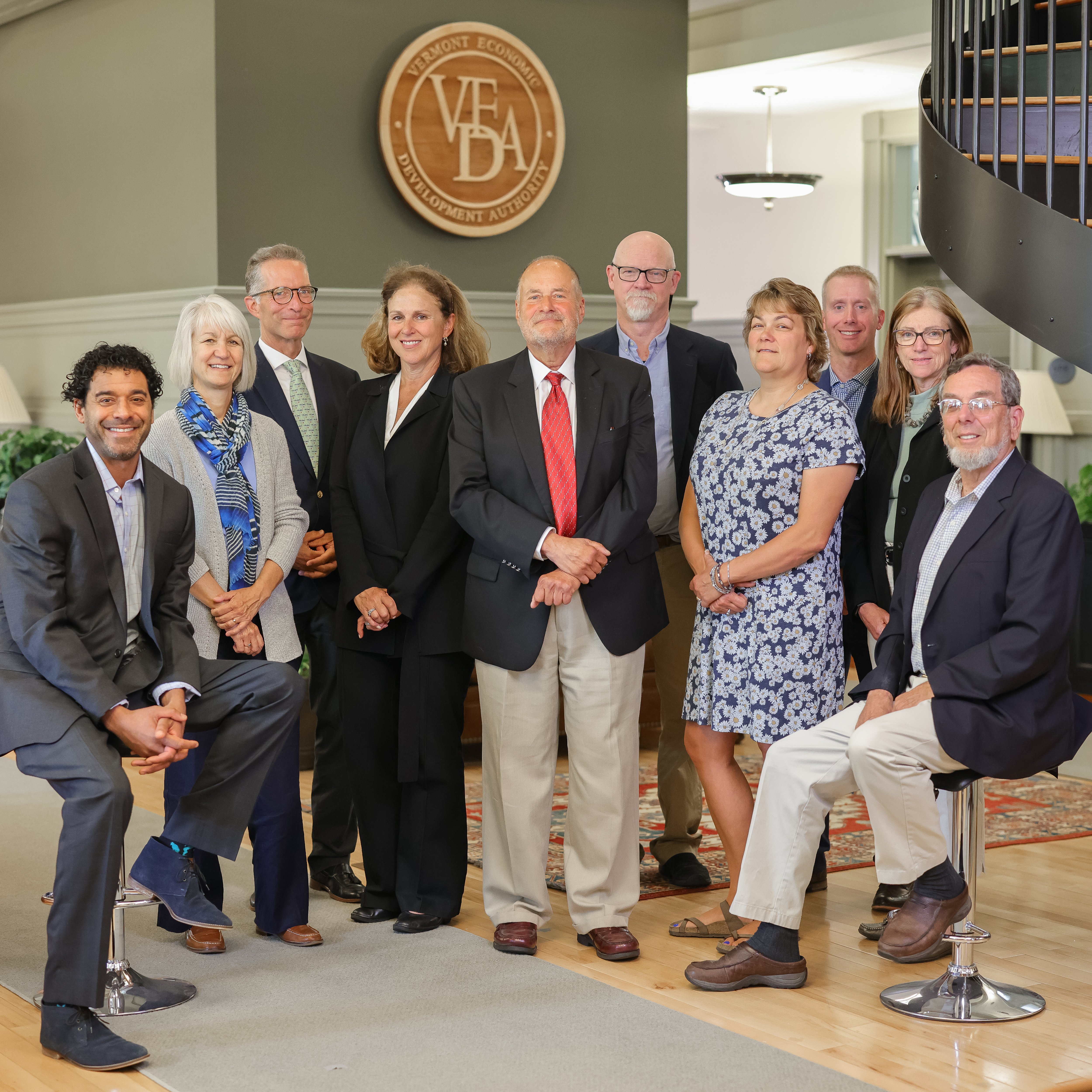 Left to right: Tony Collier, Caroline Carpenter, Steve Voigt, Joan Goldstein, Daniel Kurzman, Ed Delhagen, Alyson Eastman, Thomas Gallagher, Rhonda Shippee and Ted Foster
Missing from photo: Beth Pearce, Karyn Hale and Michael Snyder
VEDA - Board of Directors
VEDA is fortunate to have a Board of Directors comprised of thoughtful and dedicated Vermonters who bring a wealth of experience to the work of the Authority:
Steve Voigt
of Norwich is VEDA's Chair. Voigt was President and CEO of King Arthur® Flour from 1999 to 2014. Hired in 1992 as Vice President of Finance, Steve became Chief Operating Officer in 1998. Prior to King Arthur Flour, Steve worked for Benedetto, Gartland & Greene in New York, where he raised private equity for venture, LBO and alternative asset funds. During his tenure there, Steve also supported his wife in founding, and later selling, Robin's Homemade Breads of Greenwich, CT. He also consulted out of Zurich, Switzerland and Cleveland for McKinsey & Company. Steve is a graduate of the Amos Tuck School of Business Administration at Dartmouth College, and Colgate University. Steve serves on the boards of Newport Harbor Corporation, Vermont Mutual Insurance Company and Dansko. He has also been an active member of The ESOP Association serving on the Board of Governors from 2003-2009 and as its Chair.
Ted Foster
of Vergennes is VEDA's Vice-Chair. He was named to VEDA's Board in April 2019. He is a retired dairy farmer and co-founder of Vermont Natural Ag Products, serving as Treasurer at his family's 1,700 acre, 500 cow farm for over 40 years. Throughout his career, Foster worked with a number of Vermont agricultural boards and organizations, including the Dairy Herd Improvement Association, Council of Dairy Cattle Breeding, Eastern Artificial Insemination Cooperative, Genex Cooperative, Champlain Valley Farmer's Coalition, the Northeast Council of Cooperatives Board and the Board of Yankee Farm Credit. He was also Vice President of the Vermont Farm Bureau and chaired the Dean of the College of Agriculture advisory board at the University of Vermont, where he graduated with a degree in Agricultural Economics. Foster also served as an officer in the United States Army and currently sits on the Vermont Dairy Producers Association Board of Directors and volunteers with the Vergennes Lions Club and the Vergennes Food Shelf.
Karyn Hale
of Lyndonville is VEDA's Treasurer. Karyn is the Chief Financial Officer and Treasurer of Union Bank. Prior to her employment at Union Bank, Karyn was an accountant with A.M. Peisch & Company. A lifelong resident of Vermont, Karyn received an undergraduate degree from St. Michael's College and currently holds a CPA license in the State of Vermont. Karyn currently serves on the Boards of Evernorth (aka Housing Vermont) and the St. Johnsbury Development Fund.
Caroline Carpenter
of Middlebury has been President and CEO of National Bank of Middlebury since 2015. Prior to her appointment, she served the banking community in Addison County since 1991 as a mortgage originator at Vermont Federal Bank for six years before joining National Bank of Middlebury in 1997. In addition to managerial experience, Caroline is well versed in technology and the ever-important security needs related to technology. As president, she diligently maintains the bank's almost 200 years of outstanding customer service and community support while embracing the technological advances that support convenience banking. Caroline is magna cum laude graduate of the University of Vermont, majoring in mathematics, and a 2000 graduate of New England School of Banking at Williams College earning distinction as a Jordan Scholar.
Tony Collier
of Colchester is a Champlain Valley native with a passion for entrepreneurship and over six years of sales and marketing experience with Silicon Valley technology startups. He is currently an executive with a software startup based in San Francisco. Tony graduated from Babson College with a Bachelor of Science degree in Business Management and was awarded the Diversity Leadership Scholarship. He was an NCAA DIII student athlete until concussions ended his athletic career. Tony helped lead the first ever coaches concussion clinic as a player advocate with SLI, now the Boston University's Chronic Traumatic Encephalopathy (CTE) Center.
Edward Delhagen
of Plainfield is the Clean Energy Finance and Program Manager and Innovation Facilitator for the Vermont Department of Public Service, serving on the VEDA Board as Designee for Commissioner June Tierney. Ed manages clean energy finance programs, innovation initiatives, and grant programs. Since 2010 he has assisted the Clean Energy Development Fund with renewable energy projects that help move towards the energy goals of the Vermont Comprehensive Energy Plan. He coordinates the Vermont Clean Energy Industry Report, a weatherization and health initiative, biofuels pilots, a rate design initiative, and other departmental programs. Before joining State government, Ed served as Deputy Director for the Vermont Sustainable Jobs Fund where he led initiatives focused on local purchasing, and late consulted on sustainable economic development internationally. He received his Bachelor's degree from Brown University and Graduate degree from the University of Michigan.
Alyson Eastman
of Orwell is the Deputy Secretary for the Vermont Agency of Agriculture, Food & Markets, serving on the VEDA Board as Designee for Anson Tebbetts, Agency Secretary. A lifelong Vermonter, Alyson was raised on her 270-acre family farm in Orwell and resides there today with her husband, Michael, and their twin boys Brandon and Bentley. Alyson attended Champlain College and earned her A.S. in 1997 and her B.S. in 2003. In 2010, she founded Lake Home Business Services, Inc. -- a firm that provides H-2 Visas, and bookkeeping and payroll services. In 2015 and 2016, Alyson served the Addison-Rutland I District in the Vermont House of Representatives.
Thomas Gallagher
of St. Albans has been President and CEO of the Peoples Trust Company since 2011. Prior to his appointment, he served as the bank's Senior Vice President and Senior Commercial Loan Officer and has held various positions within the institution during his 20-year career. Gallagher also continues to participate on his family's farm, which specializes in dairy and replacement cattle. An Accounting graduate of Champlain College, he serves on various community-oriented boards. He also currently serves on the Vermont Banking Association Government Relations Committee and is a member of the Executive Committee.
Joan Goldstein
of Royalton is the Commissioner for the Vermont Department of Economic Development, serving on the VEDA Board as Designee for Lindsay Kurrle, Agency Secretary. Joan served as Executive Director of the Green Mountain Economic Development Corporation (GMDC). Under her tenure the regional development corporation for Northern Windsor and Orange counties was able to diversify services with real estate investments, brownfields and flood recovery grants, and innovative workforce development projects and programs. Prior to GMEDC, Goldstein worked as a small business advisor for the Vermont Small Businesses Development Corporation. Before moving to Vermont from New York City, Joan spent 20 plus years in the financial services industry at JP Morgan and Credit Suisse in a variety of international sales, marketing, client relationship, and project management roles in the correspondent banking, equity capital markets, and private banking areas.
Mike Pieciak
of Winooski was inaugurated Vermont's 31st State Treasurer in January, 2023. Treasurer Pieciak previously served six years as the commissioner of the Vermont Department of Financial Regulation (DFR) where he was appointed by Governor Peter Shumlin in 2016 and reappointed by Governor Phil Scott in 2017. He also served as deputy commissioner of DFR's Securities Division. While at DFR, he served as the president of the North American Securities Administrators Association, a member of the SEC Advisory Committee on Small and Emerging Companies and member of the National Association of Insurance Commissioners. Prior to his public service, he practiced law in New York City and Burlington, Vermont. He grew up in Brattleboro and graduated cum laude from Union College with a degree in political science. He received his law degree summa cum laude from the University of Miami School of Law where he served as editor-in-chief of the "Miami Law Review." Treasurer Pieciak currently resides in Winooski with his partner Will and English Setter Jetty.
Rhonda Shippee
of Morgan was the past Community and Business Program Director of USDA Rural Development for Vermont and New Hampshire where she managed infrastructure loan and grant programs for rural communities and non-profit organizations and business development loan guarantees and grants. She retired in 2015 after 37 years and relocated from Calais to Morgan, VT where she enjoys biking, kayaking and hiking in the Northeast Kingdom. She is a graduate of Champlain College and the Snelling Center Leadership Program. In Morgan, Rhonda is an officer and active member of the Seymour Lake Association. In the winter she volunteers with the AARP Tax Aide Program assisting elders and low-income persons with their income taxes. She is married to Matthew and has three grown children and five grandchildren.
David Marvin
of Morrisville has been a sugar maker and forester from 1972 to present. He is founder of Butternut Mountain Farm, a family enterprise focused on production, processing and marketing maple products from its own farm and hundreds of others. The 140+ employee business provides diverse maple products to all market sectors of the food industry. The farm office is located in Morrisville and the Farm Store in Johnson. In addition, forestry consulting services are provided to several hundred clients with combined ownership of nearly 100,000 acres. David currently serves as a board member of Shelburne Farms, Vermont Housing and Conservation Board, Preservation Trust of Vermont and the International Maple Syrup Institute. He has served on numerous civic and non-profit boards.
Kiersten Bourgeois
of Swanton serves as Director, Marketing and Industry Affairs for Dairy Farmers of America (DFA), located in St. Albans. She has been in this role since 2016, first with St. Albans Cooperative Creamery and now as part of DFA. Prior to assuming her current position, she was the Senior Project Manager for the Vermont Agency of Commerce and Community Development and led Governor Peter Shumlin's Connect Vermont Program. Under Governor James Douglas, Kiersten served in several senior positions, including Secretary of Civil and Military Affairs. Kiersten is on the Executive Committee of Friends of Northern Lake Champlain, the Franklin County Regional Chamber of Commerce Board of Directors and is a member of the Vermont State Workforce Development Board. A native Vermonter, Kiersten resides in Swanton, with her husband, David Chevalier.
Peter Elwell
of Brattleboro retired in 2021 after a 36-year career in local government management. He was born and raised in Brattleboro during the 1960s and 1970s, then earned a BA at Middlebury College and a Master of Government Administration at the University of Pennsylvania. After serving as an assistant manager for 13 years, Peter was Township Manager in Roxbury, New Jersey (1999-2001) and Town Manager in Palm Beach, Florida (2001-2015) before returning home to serve as Town Manager in Brattleboro. He served on the Board of the Vermont League of Cities and Towns and received VLCT's Lifetime Achievement Award. For his service in Brattleboro, Peter also received awards from the Brattleboro Area Chamber of Commerce, the NAACP of Windham County, and Southeastern Vermont Economic Development Strategies (SeVEDS). In retirement, Peter serves on two local non-profit boards and enjoys supporting individuals and organizations who are making a positive impact in Brattleboro and across Vermont.
Danielle Fitzko
of Stowe is the Commissioner for the Vermont Department of Forests, Parks and Recreation. She has been with the Department since 2003, first as Urban Forestry Program Manager and for the past five years as Director of Forests. In 2015, Danielle received the Vermont State Employees' Public Recognition Award. Danielle served as past-chair of the Urban and Community Forestry Committee for the Northeast Midwest State Forests Association and is a current member of the National Association of State Foresters. She has also been an active member of the Association of Vermont Conservation Commissions, Conservation Commission of Stowe, and the International Society of Arboriculture. Danielle earned a BS from Pennsylvania State University and a MSc from the University of Maryland. Outside of work, Danielle can be found in the garden, in the woods, or on her yoga mat.