BURLINGTON, VT - The Greater Burlington Industrial Corporation (GBIC) presented its highest recognition award to Jo Bradley, CEO of the Vermont Economic Development Authority (VEDA), at its 64th Annual Meeting on June 20, 2018 at the ECHO Leahy Center on the Burlington Waterfront.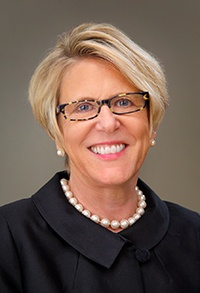 Attended by approximately 300 members of the Northwest Vermont community, GBIC presented the 2018 C. Harry Behney Lifetime Economic Development Achievement Award to Jo Bradley, CEO of VEDA. Given each year since 1995 in honor of past GBIC president C. Harry Behney, the Behney Award recognizes Vermont leaders for their significant contributions to advancing the economic well-being of the people of our community and promoting a climate that enhances the economic vitality of the state of Vermont. GBIC honored Ms. Bradley for her many economic development contributions that have been transformational to Vermont and Vermonters.

GBIC President Frank Cioffi said: "GBIC recognizes Jo Bradley for her outstanding leadership in finance, advancing entrepreneurship and innovation, and helping Vermont's key employers and our agricultural sector to grow and thrive in our region and in Vermont. We honor and thank Jo as one of Vermont's most outstanding leaders in advancing economic development."

"I am so pleased to receive this economic development award," said Jo Bradley. "It has been my great privilege to work with VEDA's Staff and Board, as well as with Vermont's many dedicated economic development professionals, to help businesses and farms create jobs for Vermonters. When I first started out as a VEDA lender in 1988, I actually knew Harry Behney, former President of GBIC. He was a wonderful man, always willing to share his knowledge and the depth of his experience with all of us. So, to be receiving this particular award is a special honor."

Jo became Chief Executive Officer of VEDA in February, 1997. Her previous professional experience includes the positions of Deputy Secretary at the Vermont Agency of Commerce and Community Development, Commercial Loan Officer at VEDA, and Vice President at Solomon Brothers, Inc. in Boston. Jo graduated with Honors from Johnson State College, earning a B.A., and from the Boston University School of Management with an M.B.A. in Finance. She also completed the Program for Senior Executives in State and Local Government at the John F. Kennedy School of Government at Harvard University. Jo served as the State Government representative on the 2007 National Advisory Committee of the Export-Import Bank of the United States (Ex-Im Bank), and she serves on numerous state and local boards.

_________________________________________________________________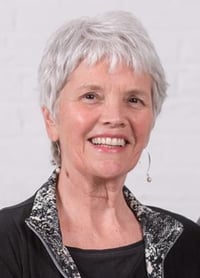 At the same meeting, Cynosure, the sister economic development corporation of GBIC, presented its 2018 Bob Skiff Community Improvement Award to Mercy Connections Executive Director Dolly Fleming.

The Skiff Award was created to acknowledge people who make dynamic contributions to the betterment of our community.

Cynosure President Frank Cioffi said: "We are thrilled to acknowledge the incredibly important community improvement contributions of Dolly Fleming. Dolly Fleming's leadership and passionate work in at Mercy Connections has helped so many people in our community who are most in need of assistance. Dolly's passionate and dedicated service to help improve the lives of so many people is an inspiration to all of us".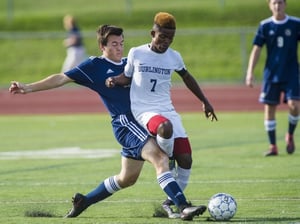 In addition, Heritier Badibanga was awarded the 2018 Ernest Pomerleau Scholarship.

Heritier Badibanga is a 2018 graduate of Burlington High School who was born in the Congo and became member of the Burlington Boys & Girls Club in 2014, when his family moved to Vermont from Mozambique. His parents made the move to the United States in search of safety and a dream of a strong education for all of their children. The Club has become a second home for Heritier, a place he knows he can go to have fun, spend time with adult mentors and to get support in achieving the education his family once only dreamt of. Since being part of the Club, he has been an undisputed leader of the teen program, attending almost every night and encouraging his peers to engage in healthy lifestyles.

Heritier has been accepted into many different colleges and recently decided that he will be attending Norwich University in the fall. At Norwich, he plans on studying computer science and aspires to be the starting striker on their soccer team. His ultimate goal as a college graduate will be to give back to his family and community.

GBIC Treasurer Ernie Pomerleau said: "Heritier is truly an inspiration to all of us. We are so proud of his accomplishments and we know that he will continue to succeed in all of his aspirations in life."