Montpelier, VT – The Vermont Economic Development Authority (VEDA) named Thaddeus Richardson as its Chief Financial Officer (CFO), effective February 20, 2020. In this role, he has broad responsibility for the Authority's financial operations, including accounting, financial planning, forecasting and overall asset and liability management.
Richardson joins VEDA from Community National Bank, where he served for fifteen years, first as VP of Commercial Lending, then as VP of Municipal Services & Asset Liability Management. He was responsible for the Bank's government banking operation as well as financial oversight of its investment portfolio, interest rate risk function, and overall balance sheet management.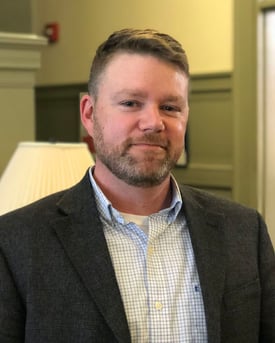 "Thad's financial knowledge and operational acumen are valuable assets to VEDA," said Cassie Polhemus, VEDA's Chief Executive Officer. "His leadership and experience will guide our Finance team in support of VEDA's overall mission of providing economic development financing to businesses and farms across Vermont."
Thad is a lifelong Vermonter who lives in Lyndon with his wife and two daughters. He's also an active member of the Vermont Economic Progress Council, a Trustee at Northeastern Vermont Regional Hospital and past Board Chair of Northern Counties Health Care.
"I'm excited to be named VEDA's Chief Financial Officer and look forward to working with Cassie and her team," said Richardson. "VEDA's lending programs impact so many sectors and locations around Vermont, so it's both a welcome opportunity and challenge to ensure the Authority is well-cared for financially."
As CFO, Richardson will also be responsible for internal controls over financial reporting, capital planning, contingency funding, investment portfolio management and stress testing. He joins the Management Team, replacing Dave Carter who stepped down as CFO in December, 2019. Working with VEDA's Board of Directors, the Management Team develops the long-term business goals and strategies consistent with VEDA's mission.
In other VEDA news, the Board of Directors named its Treasurer, Steven Voigt, as new Vice-Chair. He replaces Mike Tuttle, who stepped down from his role due to time constraints but remains on the Board. In addition, Board member Ted Foster was named Treasurer to replace Voigt. Thomas Gallagher continues in his role as Chair.
About VEDA
The Vermont Economic Development Authority (VEDA) is Vermont's economic development finance lender. Created by the Vermont General Assembly in 1974, VEDA's mission is to contribute to Vermont's economic vitality by providing a broad array of financing programs to eligible businesses that create jobs and help advance Vermont's public policy goals.
VEDA offers a wide range of low-cost lending options for Vermont businesses and farms of all sizes, and the Authority's lending solutions are customized to each borrower's individual needs. Whether in the form of direct loans, tax-exempt bond issuance or loan guarantee support, VEDA's innovative financing programs help ensure that Vermont businesses and farms have the capital they need to grow and succeed. VEDA most often lends in conjunction with banks and other financing partners, helping to stimulate economic development activity in Vermont.
Since inception, VEDA has provided over $2.5 billion in financing assistance to thousands of eligible Vermont entrepreneurs, manufacturers, small businesses, family farms, and agricultural enterprises.
VEDA has four offices throughout Vermont – in Montpelier, Burlington, Middlebury and St. Johnsbury. For more information visit www.veda.org or call (802) 828-JOBS.
###