Montpelier, VT – The Vermont Economic Development Authority (VEDA) today announced that Cassie Polhemus has been named the Authority's new Chief Executive Officer, effective April 1, 2019. Polhemus is the current Chief Operating Officer at VEDA and joined the Authority in 2013 as a Commercial Lender. She will succeed Jo Bradley, who has served as VEDA's CEO since 1997 and is retiring on March 31st.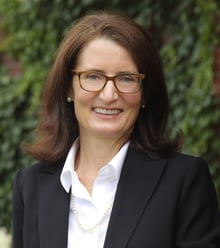 "VEDA's Board is pleased and excited that Cassie has agreed to accept the top leadership position at the Authority," said VEDA Board Chair John Snow. "We had many impressive candidates, and Cassie was the clear choice given her depth of experience as a lender, as a member of VEDA's talented Executive Management Team, and as a proven leader with a clear vision for VEDA's sustainable growth into the future."

"As VEDA's outgoing CEO, I am confident that Cassie is the right person for the job," said Jo Bradley. "She has the business and financing acumen, natural people skills, and deep public service commitment that will enhance VEDA's vital role as Vermont's economic development finance lender."

Polhemus has lived in Vermont since 1996 and has over twenty-five years of experience in commercial lending and risk management with financial institutions. Prior to joining VEDA, she was Senior Vice President and Risk Manager for Northeast Member Business Services, a credit union service organization providing small business lending services to credit unions in New England and California. From 1987 to 1999, she held various commercial lending and credit management positions at banks in Connecticut and Vermont. She earned a B.A. in Economics from Williams College.

"I am so grateful to Jo Bradley and the VEDA Board for placing their trust in me as VEDA's new CEO," said Polhemus. "VEDA's unique public financing mission makes the Authority a critical economic development resource in Vermont, and I am eager to work with VEDA's talented and dedicated Staff and Board, with Vermont's lending community, and with the Authority's many public and private partners, to continue the important work of helping our state's businesses and farms grow and thrive."
About VEDA
The Vermont Economic Development Authority (VEDA) is Vermont's economic development finance lender. Created by the Vermont General Assembly in 1974, VEDA's mission is to contribute to Vermont's economic vitality by providing a broad array of financing programs to eligible businesses that create jobs and help advance Vermont's public policy goals.
VEDA offers a wide range of low-cost lending options for Vermont businesses and farms of all sizes, and the Authority's lending solutions are customized to each borrower's individual needs. Whether in the form of direct loans, tax-exempt bond issuance or loan guarantee support, VEDA's innovative financing programs help ensure that Vermont businesses and farms have the capital they need to grow and succeed. VEDA most often lends in conjunction with banks and other financing partners, helping to stimulate economic development activity in Vermont.
Since inception, VEDA has provided $2.5 billion in financing assistance to thousands of eligible Vermont entrepreneurs, manufacturers, small businesses, family farms, and agricultural enterprises.
VEDA has five offices throughout Vermont – in Montpelier, Burlington, Middlebury, St. Johnsbury and Brattleboro. For more information about VEDA, visit www.veda.org or call 802-828-JOBS.
CONTACT: Jo Bradley, Chief Executive Officer
Vermont Economic Development Authority (VEDA)
802-828-5627
-end-